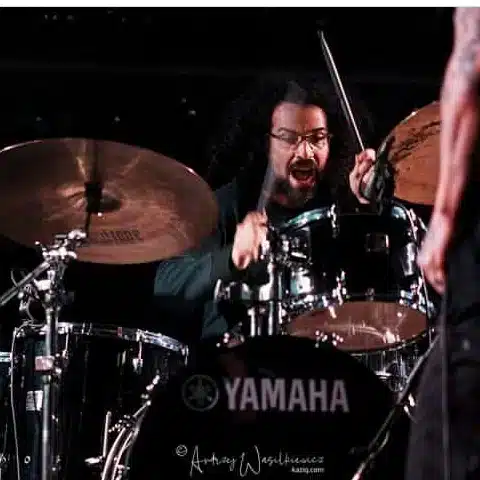 Charles has been playing drums for over 25 years, starting out playing with his father and brother as a child. Charles studied music theory and composition at Yavapai College in Prescott, Arizona, and later studied with drummer Gil Sharone, who is known for his work with Marilyn Manson, Dillinger Escape Plan and Stolen Babies. Charles also studied with legendary big band drummer Ed Shaughnessy, probably best known for his years as the drummer for The Tonight Show Band on The Tonight Show Starring Johnny Carson.
Charles is currently getting ready to head out with Black Flag on a two month US tour – the band just finished a European tour in Jan/Feb 2023. He also created the Corn Man project, a progressive rock musical suite accompanying a "children's book" style graphic novel creatively exploring some of the challenges of today's food industry. The third EP features special guests Greg Mathieson on B3 and Derek Sherinian on keys.
In addition to drumming, Charles writes music for television and has over 150 placements in shows like Oprah, Dateline NBC, Late Night with Seth Myers, The Young and the Restless, and The OWN Network. He is a regular contributor to Drumhead Magazine.
More information on Charles can be found at: https://charleswiley.net/