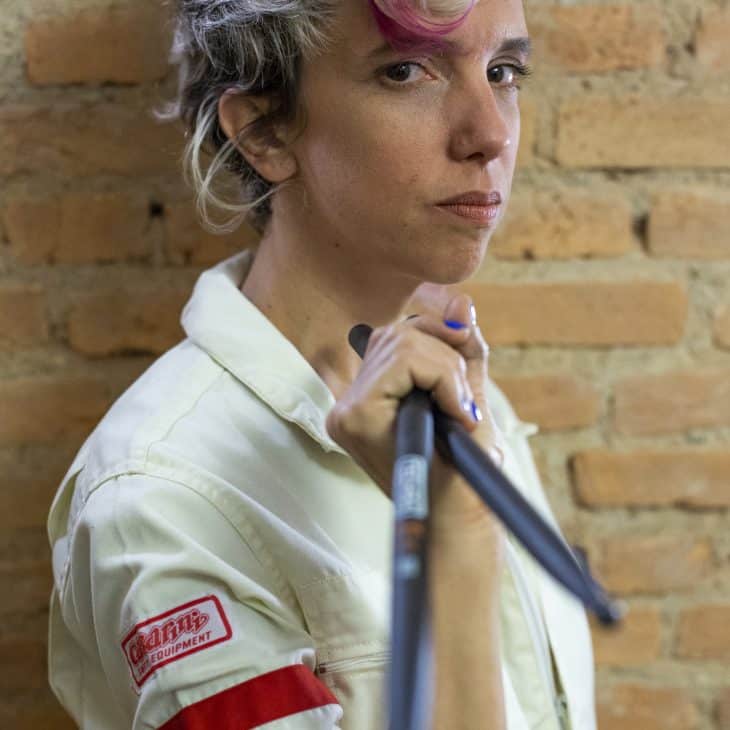 BRAZIL | Independent
Naná Rizinni is a drummer, songwriter, singer and music producer. Naná holds a bachelor's degree in popular instrument from Faculdade de Música Carlos Gomes (FMCG) in São Paulo and studied at the BAMM music school in London (former Drum-tech). In Brazil, she took private classes with drum masters Vera Figueiredo, Lilian Carmona and Duda Neves. For 8 years, Naná played drums as a sidewoman for Tiê, having recorded her albums "Coruja e o Coração" (2011) and "Esmeraldas" (2014). She also toured /recorded with artists such as Ana Cañas, Jaloo, Paulo Miklos, Johnny Hooker, Thiago Pethit, Karina Buhr, Filipe Catto, Barbara Eugenia, As Mercenárias, Belgian duo Vive La Fete, among others. Naná has also joined bands such as Krepax and, more recently, ManPurse, a project that featured André Whoong and the former CSS and Bonde do Rolê Adriano Cintra and Marina Vello. So far in her career as a drummer and composer, she has toured Europe, USA and South America and played in festivals such as Rock'n'Rio (Rio de Janeiro), Primavera Sounds (Barcelona, Spain), SXSW (Austin, USA), Bananada (GO), Meca (POA), Garanhuns Winter Festival (PE) and Lollapalooza (SP). Naná participated in several shows of the main television broadcasters in Brazil (TV Globo, TV Cultura and TV Record): Altas Horas, Programa Ensaio, XFactory, Metrópolis, Encontro com Fátima among others. In 2013, she was invited to be interviewed by Jô Soares in the TV show Programa do Jô (Rede Globo).
Hybrid Drumming is the origin of the sound research that Naná is doing to compose and produce her next album, which will be based on regional Brazilian rhythms under the influence of a synthetic aesthetic. For Naná, the integration of various artistic manifestations is the reaffirmation of the concept of 'total artist', uniting the different faces of music, image, fashion, behavior and attitude. Her music reflects the globalized world, and in 2011 the British newspaper "The Guardian" nominated her song "Nice Figure, Dangerous Heart" as one of the 35 best tracks in the world. Artistically, Naná has co-produced both her albums and her EP (Bacon Eggs with Rique Azevedo, I Said with Plínio Profeta and Lá Na Naná with Adriano Cintra). 
Besides currently working on her own album, she is producing works of artists such as Ekena, Andrea Merkel and Brenda Band. Besides the artistic production of music, Naná has been producing music for the advertisement market since 2014. In January of 2018, Naná joined Loop Studio's team as a music producer and content creator for national independent music projects. Currently, as a touring drummer, Naná is playing for Ana Canãs, Johnny Hooker and Pequeno Cidadão, besides preparing her experimental trio A Vana'a first album.